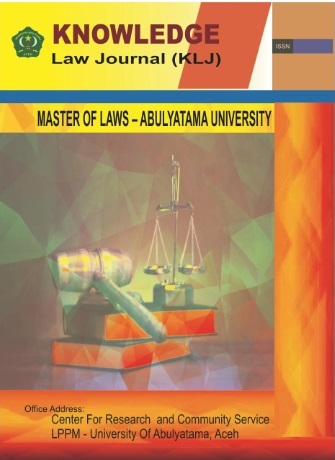 KNOWLEDGE Law Journal (KLJ) is an academic, open access, and peer-reviewed journal founded and first published in 2019 by the Center for Research and Community Service (LPPM) University of Abulyatama, Aceh, Indonesia.
We are interested in topics which relate generally to Law issues in Indonesia and around the world. Articles submitted might cover topical issues in Civil Law, Criminal Law, Civil Procedural Law, Criminal Procedure Law, Commercial Law, Constitutional Law, International Law, State Administrative Law, Adat Law, Islamic Law, Agrarian Law, Environmental Law, etc. 
Issues are published two times per year (in April and October). Submissions are open year-around. However, before submitting, please ensure that the manuscript fits within Humaniora's focus and scope, and is written in English and follows our author guidelines. Please note that only research articles or book review are accepted.
KNOWLEDGE Law Journal (KLJ) has become a CrossRef Member. Jurnal KNOWLEDGE Law Journal (KLJ) is currently indexed and/or included in Google Scholar, Garuda, IOS, DRJI, etc.
Office Address : Center for Research and Community Service (LPPM) Building, University of Abulyatama, Aceh
E-mail : jurnalklj@abulyatama.ac.id