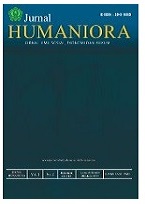 Jurnal Humaniora is an academic, open access, and peer-reviewed journal founded and first published in 2017 by the Center for Research and Community Service (LPPM) University of Abulyatama, Aceh, Indonesia.
Focusing on culture, economy, and law because it is seen from the perspective of Indonesia, especially in Aceh. The humanities journal provides a platform for case studies and analysis, publishing articles that are useful for people and advancing humanities studies.
Issues are published two times per year (in April and October). Submissions are open year-around. However, before submitting, please ensure that the manuscript fits within Humaniora's focus and scope, and is written in Indonesian or English and follows our author guidelines. Please note that only research articles or book review are accepted.
Jurnal Humaniora has become a CrossRef Member since the year 2017. Jurnal Humaniora is currently indexed and/or included in Google Scholar, Garuda, IOS, DRJI, etc.
P-ISSN : 2684-9275      E-ISSN : 2548-9585
Office Address : Center for Research and Community Service (LPPM) Building, University of Abulyatama, Aceh
E-mail : jurnalhumaniora@abulyatama.ac.id
Announcements
CALL FOR PAPERS

We are accepting original research paper along the years (November - April, and May - October). Please submit your article using our online journal system.

Posted: 2019-04-15
More...
Vol 6, No 2 (2022): Oktober 2022
Table of Contents
Articles
| | | |
| --- | --- | --- |
| | Juliana Juliana, Arifin Djakasaputra, Rosianna Sianipar, Nova Bernedeta Sitorus, Sandra Maleachi, Gunawan Prabowo | 1-14 |
| | | |
| --- | --- | --- |
| | Imron Siregar, Syaiful Bahri, Syahril Effendy | 15-32 |
| | | |
| --- | --- | --- |
| | Muhammad Irsyadul Fajri | 33-44 |
| | | |
| --- | --- | --- |
| | Yusuf Indra Pradana | 45-56 |
| | | |
| --- | --- | --- |
| | Nara Pristiwa, Aida Fitri | 57-62 |
| | | |
| --- | --- | --- |
| | Rahmawati Rahmawati, Moch. Syauki, Cut Delsie Hasrina | 73-80 |
| | | |
| --- | --- | --- |
| | Ikwanuddin Ikwanuddin, Syarifuddin Syarifuddin, M. Nasir Ismail, Zahrul Fuadi | 81-87 |
| | | |
| --- | --- | --- |
| | Muhammad Yanto, Munif Rochmawanto | 88-101 |
| | | |
| --- | --- | --- |
| | Armia Armia, Cut Zuriana | 102-106 |